Forest Legacy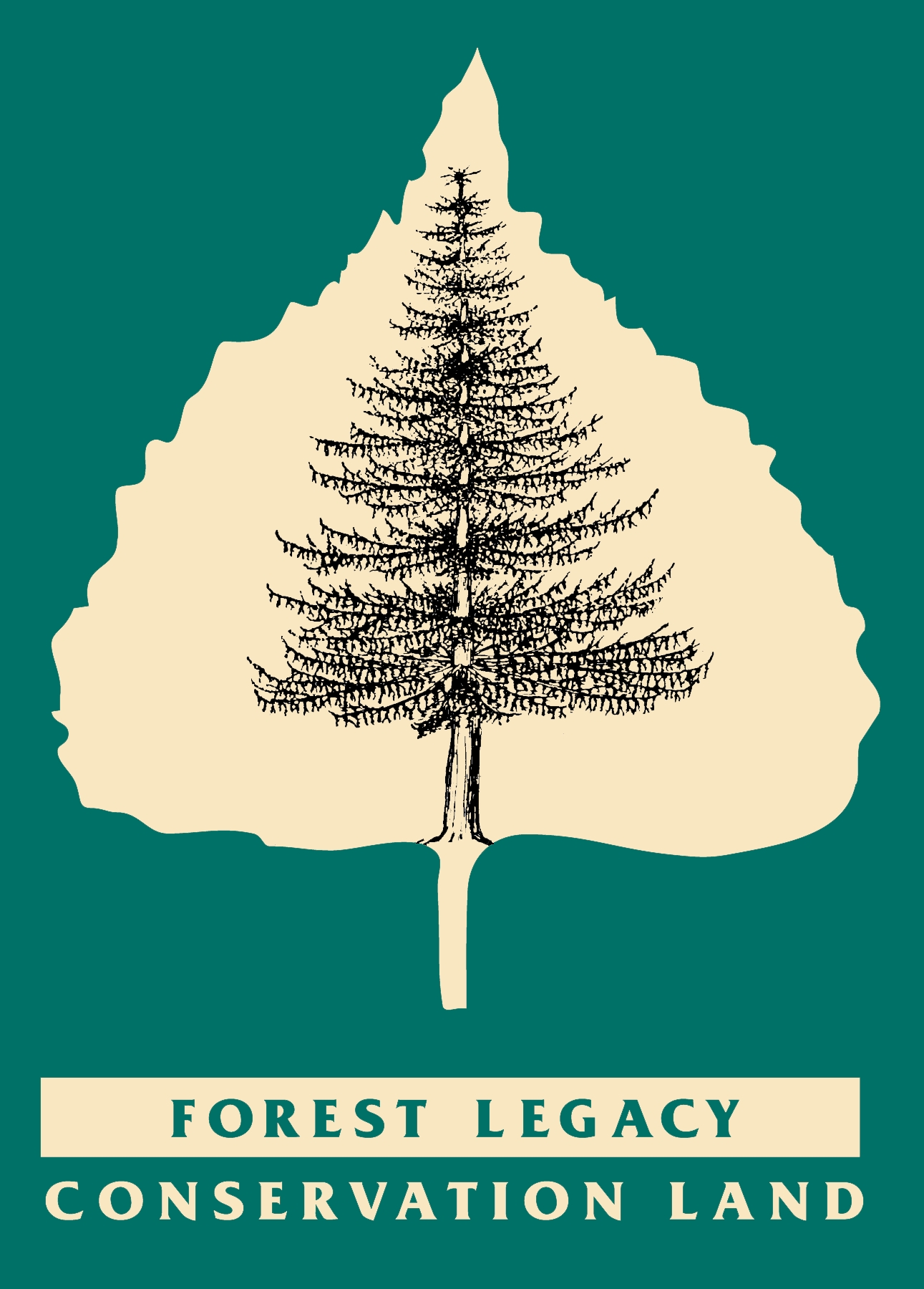 Authorized by Congress in 1990, the purpose of the Forest Legacy Program (FLP) is to identify and protect environmentally important forestland from conversion to non-forest uses, through the use of conservation easements and fee purchase acquisition negotiated with willing landowners. FLP is a cooperative partnership between the U.S. Forest Service and Oklahoma Forestry Services.
Of Oklahoma's 12 million acres of forestland, more than 90 percent is privately owned. Many of these private forests, valued for so many resources and managed for different objectives, are being converted to urban and suburban developments and infrastructure, and are being subdivided into smaller and smaller parcels. As a result, we are concerned that the state's forestlands may be unable to maintain the full suite of environmental services that forestlands currently provide the state's citizens.
Economic pressures on forest owners, such as escalating land values and estate taxes, often lead to fragmentation and the conversion of rural areas into developed areas that extend into cities and towns. Census Bureau data shows the population of Oklahoma in 2012 was 3.815 million people, an increase of 10 percent from 2000. It is estimated that by the year 2020 the population will increase by about 5 percent to 4.024 million. Although statistically reliable forest inventory data will not be available statewide for a few more years, the conversion of large areas of Oklahoma's valuable forests to non-forest uses, including some of the state's most environmentally important forests, will continue as the state's population grows.
Forestry Services completed the Assessment of Need required as a part of the Forest Legacy Program during development of the Oklahoma Forest Resource Assessment in May of 2010.
Who Owns Oklahoma's Forests?

The vast majority of Oklahoma's forests (95% or more) are not owned by the federal government or large forest products companies, but instead by thousands of private individuals – from farmers and ranchers and those who still live on the land, to the teachers and professionals and other private citizens that reside in cities across the state or across the nation.

Care and Management is the Key

Oklahoma's forest is a huge asset to our state, the nation and the world. Proper care and management is essential. State and federal government, the forest industry, community leaders and thousands of private landowners working together help to keep our forests and woodlands healthy and productive.
Major Forest Types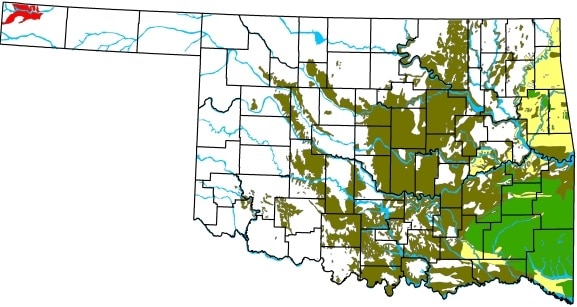 Oak-Hickory Forest
The majority of Oklahoma forestland is oak-hickory. On the map you can see how it fingers its way into a wide variety of forms and species mixes. Oak-hickory forests provide food, cover and nesting sites for numerous wildlife species.
In northeastern Oklahoma, you'll find these trees used for commercial wood products. Further west as the rainfall diminishes the growth rate of these forests is slowed. Hickory becomes less common
Oak-Southern Pine Forest
Commercially, our most valuable wood is generated from southern oak-pine forests, which are in the far southeastern corner of Oklahoma on more than five million acres extending into five counties. The forest industry and private landowners claim the vast majority of southern oak-pine woods. The federal government owns approximately 300,000 acres of national forests.
Among the Oklahoma industries supported by these forests include:
Two large sawmills
A plywood plant
A medium density fiberboard plant
Two large paper mills
Located in the scenic Ouachita Mountains these forests provide superior recreation opportunities as well as supporting a diverse wildlife population.
Another benefit is the filtering system these woodlands offer to ensure high quality drinking water that is used as far away as Oklahoma City.
Post Oak-Blackjack Forest
In the center of the state towering trees bow out to the cross-timbers-dense, gnarled patches of drought-resistant post and blackjack oaks. In 1832, Washington Irving called them "forests of cast iron." Later, cowboys driving herds along the Chisholm and Shawnee trails gave this forest its existing name. The timbers snagged cattle as they attempted to cross.
Piñon Pine-Juniper Forest
Tucked away in the northwestern most corner of the Panhandle Oklahoma has approximately two thousand acres of piñon pine and juniper forestland. Commonly referred to scrub or brush lands, these savanna-like forests contain several species of western juniper and at least two species of pine. You can find a very small number of Ponderosa pine trees on favorable slopes. Used locally for firewood or fence posts, these trees have no other commercial value.
Bottomland Hardwoods/Riparian Forests
Travel from the cross-timbers shaggy arms to follow the streams and low prairie rivers, and you will find another type of Oklahoma forest-the bottomland hardwoods. In far southeastern Oklahoma you can walk in the shade of bald cypress and willow oaks. In northeastern areas you'll find pin oaks and cove-type hardwoods.
In central Oklahoma we have elms, pecan and a wide variety of oaks. Out in the western part of the state the number of species in our bottomland hardwood forests declines. The majority of trees are cottonwood, elm and ash.
Oklahoma's bottomland hardwoods have been heavily cut over and cleared for agricultural uses. Because their wood is valuable and easy to transport along waterways, these trees were among the first forests cut in Oklahoma. Man-made lakes have flooded many uncut areas.
By 1956, the U.S. Forest Service estimated that only 15 percent of the state's bottomland hardwoods still stood. Fortunately, the trees in these forests naturally regenerate very well and with minimal management and protection they can be restored to productive conditions. Commercially, the most valuable timber from the bottomlands comes from:
Black walnut
Pecan
Red oaks
White oaks
Green ash
Some other forests tapped early in settlement were the central Oklahoma oak forests. These trees provided raw material for western expansion of the railroads, some of the westernmost good quality trees suitable for this purpose.
Oklahoma's riparian forests are now being recognized for their value in controlling non-point source pollution and erosion, protecting water quality, providing travel corridors and habitat for diverse wildlife species, shading streams and maintaining aquatic habitat, and serving as a transition zone between streams and more intensive land uses. Considerable effort is underway by numerous state and federal agencies working with private landowners to protect and restore riparian forest buffers along streams where feasible. Suitable practices include tree planting, fencing to exclude grazing and encourage natural regeneration, and limiting activities within the streamside management zone to protect the soil and maintain forest vegetation.
Redcedar Forests
A new forest is quickly emerging over the last 70 years. It was not present during the time Irving was here. Scattered across Oklahoma in a three to four million-acre range are redcedar forests, which have popped up in ever increasing numbers after wildfires were largely contained or eliminated. Many ranchers have had their rangelands overwhelmed by what many call an "invasion" of redcedar. This incursion is causing a long-term change in our forestland and rangeland ecosystems.
Hardy prairie grasses and periodic wildfires once relegated cedars to the more remote limestone outcrops and protected canyons. Passive land management, over-grazing livestock and suppressing wildfires have transformed much of Oklahoma into the ideal nursery for cedar seedlings.
Redcedar has many commercial uses. Sawmills have opened across the state to utilize the products these trees provide, which include: cedar oil, litter box chips, lumber for hope chests, and insect repellent.
Oklahoma's Lost Forest
According to the southern forest resource assessment, in 1630 Oklahoma had 13.3 million acres of forests with 133 tree species. By the 1930s less than 200,000 acres of virgin forest in eastern Oklahoma remained. The U.S. Forest Service estimates we now have 7.665 million acres of forest-58 % of the original acreage. Forest surveys have shown increases in the forest during the past 20 years due to better management and reforestation.
Elbert Little, Jr., who studied several forest sites in southeast Oklahoma over a 60 year period described the burned out and cutover woods he first witnessed in 1929 as "almost worthless for any purpose." It would be some time, he said, before it was of any value."
Despite early excesses, poor land use and lack of foresight, some exciting stories of forest reclamation are also woven into our history. For example, during the first 10 years our agency was in business an intensive public education campaign was launched. As a result, the percentage of southeastern forests burned annually dropped from 80 percent to three percent.
By the 1980s when Little revisited the area, he reversed his earlier position about the worthlessness of the land. He wrote that he wished he owned some of it. "The progress in management of southeastern Oklahoma's forest lands is far greater than anyone would have predicted a half century ago," he wrote. "The changes, mostly beneficial, are beyond anyone's imaginations or dreams."
The state's vast pine and oak-pine forests have recovered well and presently support a huge forest industry, wildlife populations and recreation opportunities.
It is important to remember forests change naturally over time-they won't remain the same unless we manipulate them intentionally. Early French explorers in east central Oklahoma north of Wilburton named the mountains San Bois: treeless. Now they are covered with woodlands.
Large pine trees scattered in tall-grass savannah characterized the virgin forests of southeastern Oklahoma. Quality hardwoods such as walnut and ash were growing in Oklahoma along the west Texas border thousands of years ago. Very large red cedars have been unearthed near Chickasha that are estimated to also be several thousand years old.
Grasslands and the woodlands are in a constant tug of war as they respond to long-term climate changes. Humanity is only one part of a very large equation.
Ecoregions 
Oklahoma's Forest Landscapes of Concern
Oklahoma Forestry Services identified three priority forest landscapes of concern in the 2010 Forest Resource Assessment and Strategy which included:
Shortleaf Pine
Cross Timbers
Illinois River Watershed
Efforts have been made to educate the public and encourage forest management in these priority landscapes. Click on the links above to learn more about these forested landscapes.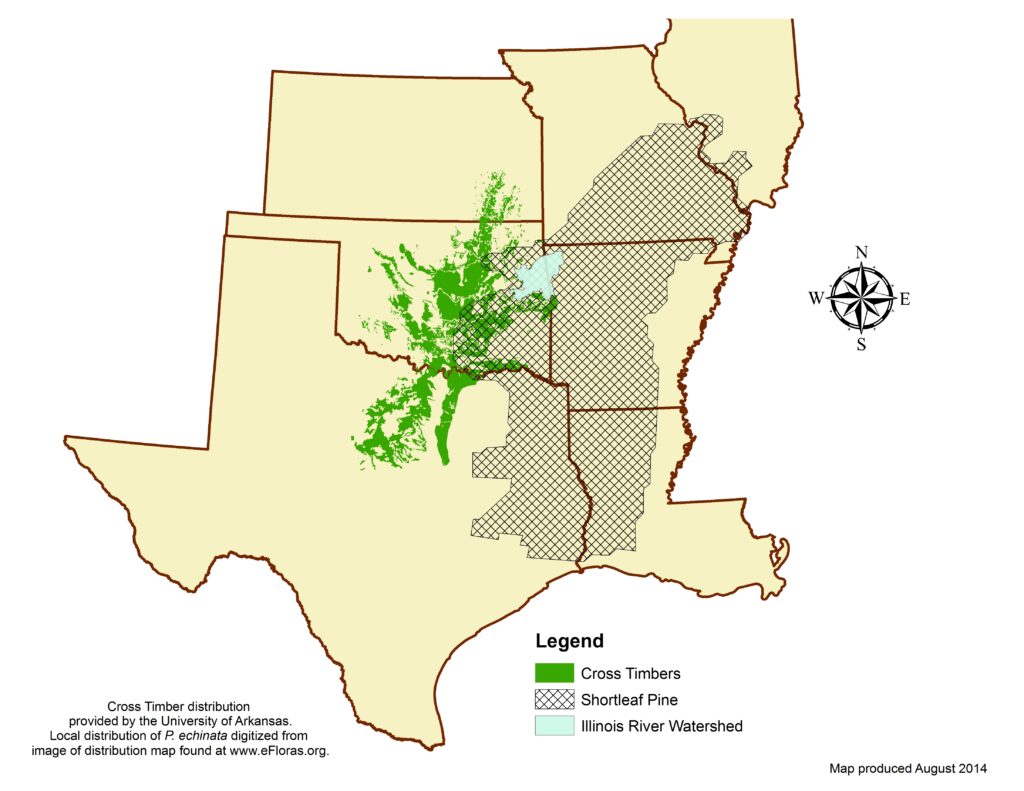 Shortleaf Pine
Shortleaf pine is the most widespread pine species in the southeastern United States. Its natural range includes 21 states, extending from New York, south to north Florida and west into Texas and the eastern quarter of Oklahoma.
Shortleaf-dominated landscapes support a wide variety of native grasses, wildflowers, forbs and wildlife species; survive on the harshest of sites; and are adapted to frequent wildfire and drought. However, according to U.S. Forest Service Forest Inventory and Analysis data, the timberland area occupied by shortleaf pine declined from 12.6 million acres in 1980 to 6.0 million acres in 2012, a loss of 53 percent. The map shows current locations of shortleaf on FIA plots as compared to its native range.
Habitat loss for the species is a concern and is the result of several factors, including changes in fire frequency, large-scale tree plantings of faster-growing loblolly pine which have displaced native shortleaf on many sites and an increase in shortleaf X loblolly hybrids that is jeopardizing shortleaf's genetic integrity.
Although loblolly pine is currently preferred for plantation-style management in Oklahoma, shortleaf pine is still a vital part of Oklahoma's landscape. Shortleaf pine is well-adapted to droughty and rocky sites, and is very resistant to ice and wind damage. As a native species with the ability to sprout following fire, shortleaf is more adapted to the changing climate conditions at the western fringes of the pine range. However, managing a native shortleaf stand rather than converting it to a loblolly plantation requires the landowner to make tradeoffs, especially in timber production and short-term economic value.
Shortleaf is attracting renewed attention from those interested in restoring and maintaining historical native pine ecosystems throughout the South. It is not suitable for all management goals, but landowners should consider shortleaf pine for their upland sites, especially where natural regeneration is a feasible alternative.

Shortleaf Pine Inside and Out
Mature Height: 100 feet (In 2009, Oklahoma's State Champion was 114 feet tall)
Mature Diameter: 30 inches (In 2009, Oklahoma's State Champion was 36 inches in diameter)
Form: Pyramidal crown, straight trunk, well-pruned
Twigs: Rough, green to purple with white glaucous when young; red-brown to black when mature
Leaves: Evergreen needles of 2 or 3 per fascicle, about 2 ½ to 4 inches long; acicular, slender, flexible; dark green to yellow-green
Bark: Rough in seedlings and new branches; irregular, flat and scaly yellow-brown to dark brown plates that are 1 inch thick when mature (an adaptation to fire)
Female strobili: Light green to purple and armed on short stalks in clusters of 2 to 4
Male strobili: Cylindrical, red to yellow, in clusters on new shoots in the lower crown
Cones: Dull brown, egg-shaped, 1 ½ to 2 ½ inches long, with prickles on scales; seeds are paired under the scales, dark brown, 3/16 inches long with 5/8-inch papery wing
Wood: Reddish to orange brown, with thick, whitish or yellowish sapwood; medium textured, moderately heavy, moderately hard and strong, resinous; valuable for lumber, panels, veneer, pulp, posts and poles
Range: The map above shows the original species range in Oklahoma as determined by Dr. Elbert L. Little, Jr.

Shortleaf Pine Resources and Publications
Useful Shortleaf Pine Links
Places to Visit – Go See Shortleaf Pine Management

Because shortleaf is less profitable than loblolly pine on most sites, much of the land management and restoration work for this species is found on public lands which offer opportunities for long-term conservation of native species. Some public areas where shortleaf pine remains a valued part of our native landscape include these sites:
Funding assistance for Oklahoma's shortleaf pine initiative was provided by the USDA Forest Service – Southern Region, Forest Stewardship Program.